Brand Principles: How to be a 21st Century Brand by Kevin Finn
Regular price

$35.00
Sale price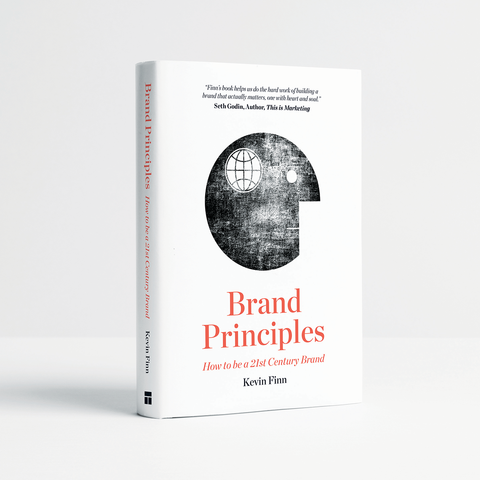 **Back in stock**
Not every business is a brand. In fact, most businesses aren't. And that's okay. But what if you could implement the approach, attitude and mindset that makes successful brands so successful?
In this book, Kevin Finn presents an insider's view of how businesses become brands—and what this now means in the 21st Century. From logos and Design Thinking, through to the rise of Purpose-led brands, conscious consumerism and a new era of business leadership, Finn explores this rapidly shifting landscape.
Based on 15 tried-and-tested principles observed and developed over a near 30-year career in design and branding, Finn uses common language to encourage a mindset you can adopt in your own way, and which can be applied to any business, regardless of size or sector, including established brands looking to stay on track.
But with the pace of change steadily increasing, it's now no longer just about making ethical business decisions. It's about survival.
Finn draws from direct and personal conversations with Edward de Bono; Ken Segall (ex-Advertising Creative Director for Apple, who worked with Steve Jobs for 12 years); David Ohana (former Global Chief of Brand Building at UNICEF); Anne Miltenburg (founder of Brand The Change, and Brand Manager at Internet of Elephants, Nairobi); Helen Walters (Head of curation, TED); Michael Bierut (Partner at Pentagram, New York); Wally Olins (co-founder of seminal branding firm Wolff Olins); Damien Walsh (Managing Director of Bank Australia); and Daan Roosegaarde (founder of Studio Roosegaarde in Rotterdam, and a Young Leader at the World Economic Forum), among others.